Oktoberfest
October
Robert Frost
O hushed October morning mild,
Thy leaves have ripened to the fall;
To-morrow's wind, if it be wild,
Should waste them all.
The crows above the forest call;
To-morrow they may form and go.
O hushed October morning mild,
Begin the hours of this day slow,
Make the day seem to us less brief.
Hearts not averse to being beguiled,
Beguile us in the way you know;
Release one leaf at the break of day;
At noon release another leaf;
One from our trees, one far away;
Retard the sun with gentle mist;
Enchant the land with amethyst.
Slow, slow!
For the grapes' sake, if they were all,
Whose leaves already are burnt with frost,
Whose clustered fruit must else be lost--
For the grapes' sake along the wall.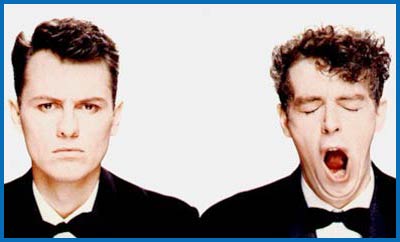 The Pet Shop Boys - "My October symphony."
On this sighing, mid-tempo synth-pop number Tennant/Lowe don't seem to share Frost's desire to savor Autumn's finest month. Instead, they slack about all sadsack and sulk in sweet strings provided by the Balanescu Quartet. A fine album track off my favorite "break up album,"
Behavior
.
I havn't yet figured a way to encode to .mp3 on my new OS but this .ogg file I just ripped should play fine in most Windows music software.
Since my speakers aren't up and running yet I was unable to test the file, so there's an odd chance it might be defective. I would appreciate it very greatly if someone would leave it a note in the comments box about whether it works or not.
Hell, I'd appreciate any comments at all. I havn't been getting any notes since I switched to the blogger.com system. Would y'all post more if I switched back to the old comment system?